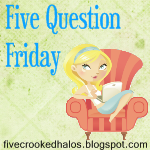 It's only Wednesday, but I thought I'd try last week's Five Question Friday. I hope to do this again this coming Friday as well. Here it goes...
1. Do you have any nicknames and if so how did it come about?
Oh boy, do I have nicknames? I should let my hubby answer this one! ;O) The list is endless with him; he'll start with one, then that one forms into another and so on.
My favorite nickname from him would have to be, Uni
2. What is your birth order amongst your siblings?
I'm an only child.
3. In a movie of your life, who would play your significant other?
Hmmm, it would have to be a famous surfer. I'll go with Matt Beacham (hubba hubba).
4. What is currently your favorite song?
Don't laugh...Head, Shoulders, Knees and Toes. I love watching my little guy point the body parts he knows (all, but shoulders) and I love seeing him get SO excited when the song starts.
In adult music, gosh there's so many: Kris Allen "Live Like We're Dying", The Ataris "The Boys of Summer", just to name a couple.
5. Are you saving your money for anything right now? Big or small purchase?
I wish. We're just trying to save money in general, but that's become harder to do since buying our home. They say the first year is the hardest...I hope they're right.
Check back this Friday, Aug. 27th for another 5 Question Friday (this time on the correct day!)